Welcome to Cas-Cad-Nac Farm Alpacas' Online Store!
At Cas-Cad-Nac Farm (CCNF), we pursue a three-legged business model. While our primary business is the production of alpaca seed-stock for sale both domestically and internationally, we also co-own the Vermont Fiber Mill & Studio in Brandon, VT where the majority of the farm's annual fiber clip is processed and sold. Since 2011, we have also processed a limited number of our animals into meat, which we offer for sale both from the farm itself, as well as supplying several fine-dining establishments.
All of our alpaca meat is from animals born and raised here at Cas-Cad-Nac Farm. Our alpaca meat is inspected and stamped by the Vermont Agency of Agriculture, sealed in Cryovac packaging, and sold frozen.
Alpaca meat is still relatively new to the American culinary landscape. However, outside of North America from Australia, New Zealand, and Europe where alpaca meat is viewed as a delicacy, to South America where it has been a staple for thousands of years, the idea of alpacas as a protein source is not a new one in the least.
Why Alpaca Meat?
Well for starters, because it's delicious! Alpaca is a lean red meat with a very mild sweet flavor profile that we feel compares most closely to veal.
Did you know that in addition to tasting great though, that it is also extremely high in protein AND low in fat and cholesterol? We sent some of our meat to a testing laboratory and the results came back showing that our alpaca meat was in fact lower in cholesterol than chicken and lower in fat than bison! The chart below shows how our alpaca meats compare with other healthy meats. If you are looking for the healthiest meat to eat, try some of our alpaca!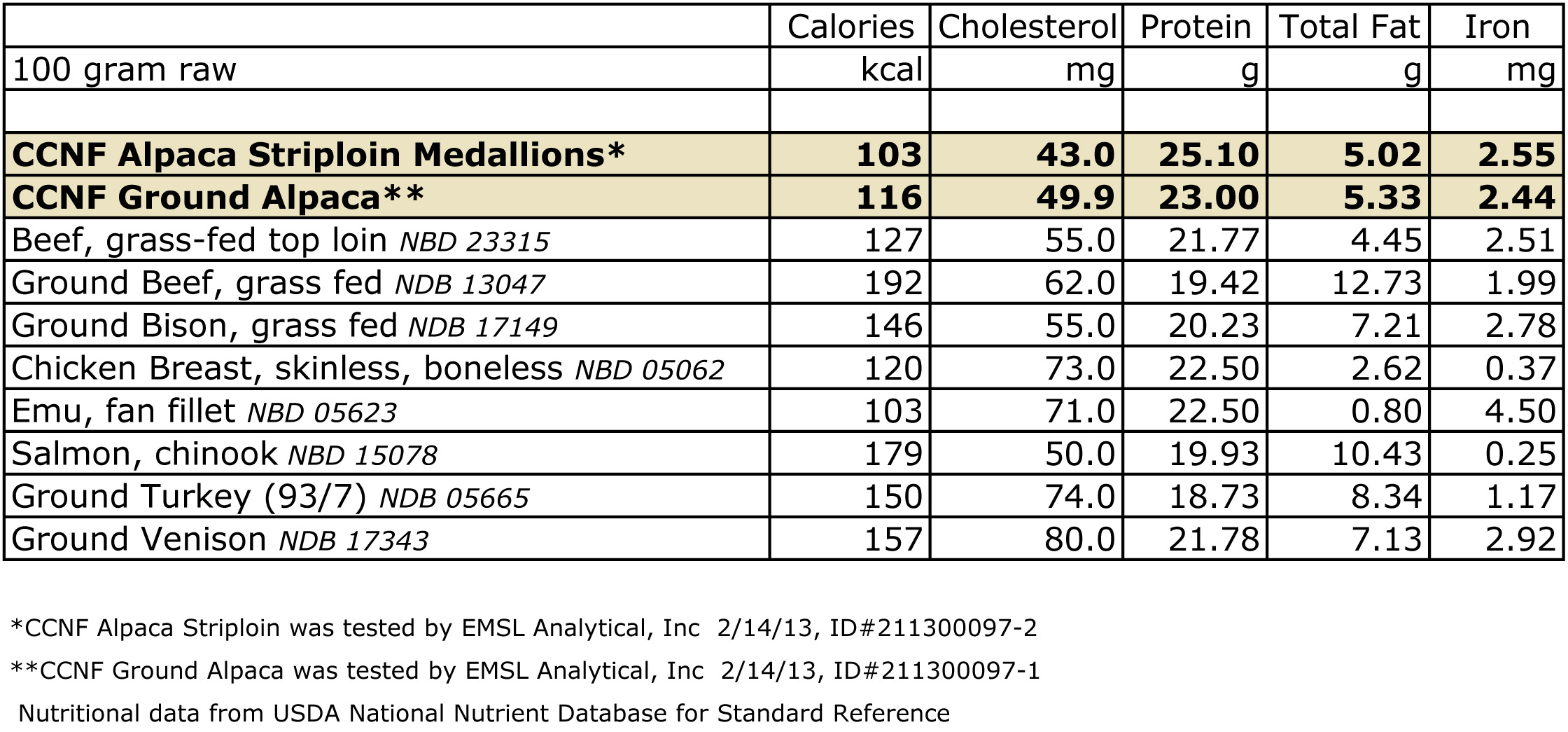 How to Buy?
We sell our alpaca meat to customers two ways. The first is obviously right here through our online store. For those customers that live farther away, shipping is of course available. We will only ship out orders on Mondays and Tuesdays so as to ensure every order's safe arrival at its final destination. If you live in the area, you can also place your order online and then pick up at the farm! As we are a working farm though and do not keep regular store hours, we do ask that customers make an appointment in advance (please call 802-263-5740 or drop us an email at jen@alpacameat.com) before coming to the farm to pick up their meat. We are happy to accept all major credit cards.